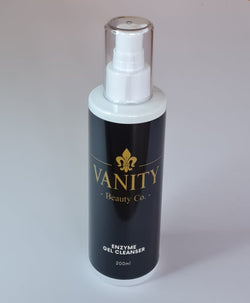 VanityBeautyCo.
Enzyme Gel Cleanser
This gentle gel cleanser, infused with a combination of White Willow Bark and fruit enzymes of Papaya and Pineapple, naturally exfoliates, moderates oil secretion and brightens and softens the skin. Added Juniper Berry and Lime Essential Oils act a natural antibacterial agent, fighting against surface bacteria that can lead to blemishes. The lingering natural aromas of Orange, Lime and Bergamot makes for a revitalising spa-like treatment.
Skin Type - All Skin Types OR Particularly beneficial for Oily / Blemished / Problematic Skins
Natural Scent - Orange Lemon Bergmot Juniper
200ml
Ingredients - Ingredients: Purified Water, Lauryl Glucoside (Coconut & Sugar Derived), Vegetable (Palm Free) Glycerine, Asimina Triloba (Pawpaw) Extract*, Cocamido Propyl Betaine (Coconut Derived), Ananas Sativus Fruit Extract (Pineapple), Salix Alba (White Willow Bark), Glycyrrhiza Glabra (Licorice) Root Extract*, Syzygium Leuhmanii (Lilli Pilli) Fruit Extract*, Citric Acid, Citrus Aurantium Dulcis (Orange) Peel Oil, Citrus Aurantifolia (Lime) Oil, Citrus Bergamia (Bergamot) Oil, Juniperus Deppeana (Juniper) Oil, Tocopherol (Vitamin E), Hydroxymethylglycinate (Glycine Derived) – * Organic Ingredients Hydroxymethylglycinate - This preservative is derived from the naturally occurring amino acid, glycine. It is a natural alternative to other harsher synthetic preservatives. This product contains an extremely low and safe concentration of 0.5%.